FFS vertical bagging machines
Discover below, our range of vertical bagging machines intended for the packaging of food and non-food products. Very compact and designed for bag formats from the smallest to the largest at various speeds, our vertical bagging machines allow the packaging of various products in cushion bags, chain bags, square bottom bags, 3-4 side seal bags, etc. Like our range of horizontal pouch machine, our vertical baggers can be combined with multihead weighers, linear weighers, dosing pumps for liquids, etc.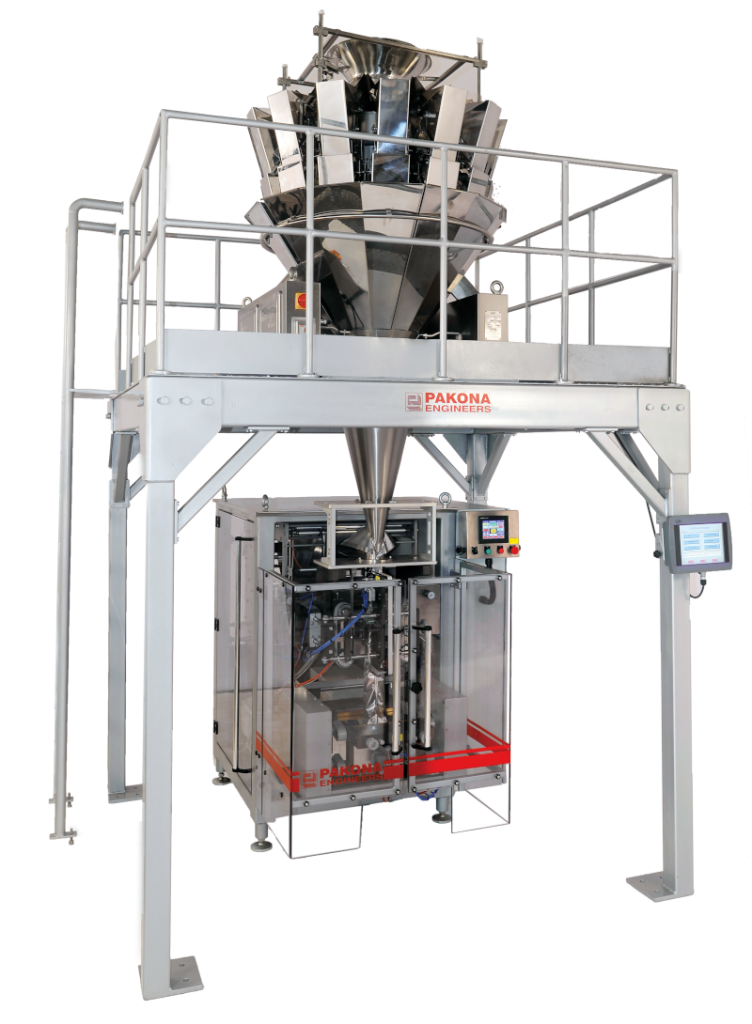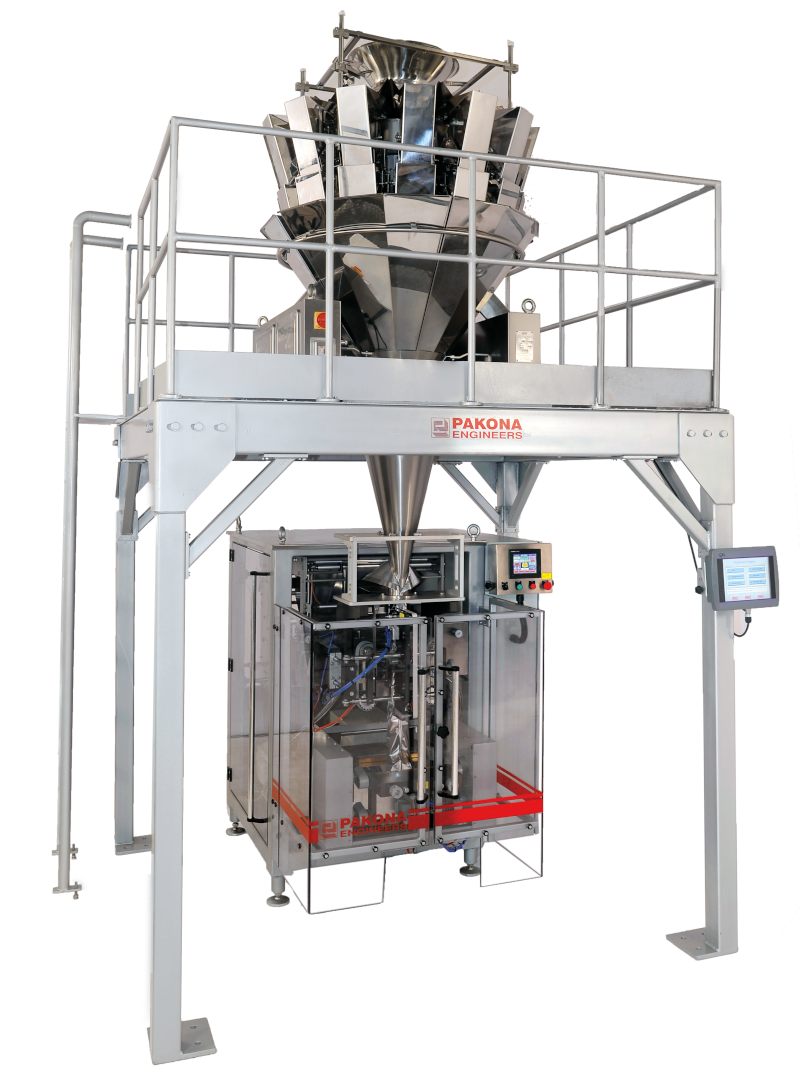 The ease of use for a given bag format makes this type of bagging machine a pleasant production tool to use. As with our entire range of vertical bagging machines, we can integrate any dosing systems required.
From the smallest formats to the largest
Our bagging machines are able to run different types of products in very wide format ranges. From samples of cosmetic creams to multi-kilogram bags, our machines can meet a wide demand for packaging capacity.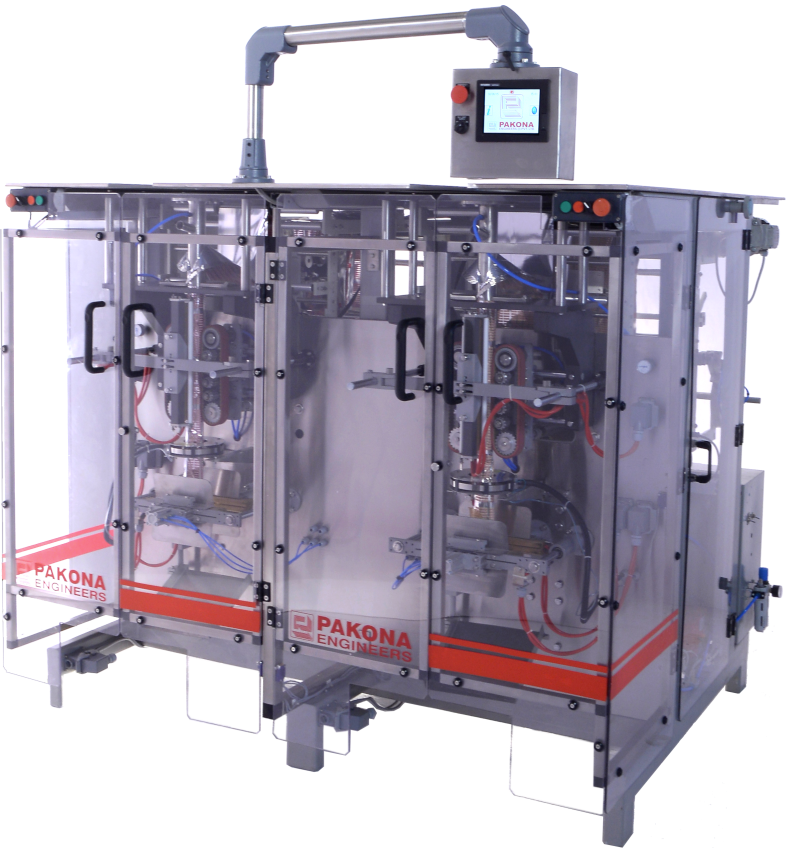 VFFS vertical pouch machines data sheet
Machine Series:

PK-VFFS

Execution :

1 track up to 20 tracks

Speed ppm/min*. :

40 to >600

Types of bags:

Pillow bag – Gusseted bag – Flat bottom bag – Quad seal-Flat sachets – Complete or partial shaped sachets – -Bipoches- Wipes-

Pouch formats:

L 40 – 485mm

H 60 – 600 mm

Types of films :

All heat sealable films

Equipment :
Digital control console, splicing table between reels, rapid format change, modem, bag desaeration, servo drive of the side sealing irons: Precise adjustment of the sealing time independently of the rate, automatic catch-up from edge to edge of the film, bag opening primer, part in contact with the product in AISI 316, all paper documentation.
Option :
Zip, nitrogen, marking, embossing, labeling, ultrasonic sealing, adaptation of sealing irons, pick and place at the machine outlet, check weigher, metal detector. Weight Smart (The bagger waits for the weigher: Avoids empty bags), machine closed on the top, cams for different bag opening strokes, UV lamp at the film unwinding level, recovery of production data, laminar flow, welding cooling depending on the application, air conditioning in the electrical cabinet…others on request.
Additional equipment:
Multihead weighers Yamato, Ishida, Multiweigh, Multipond, others on request, piston and servo motor controlled dosing pump for liquids, screw dosers, drawer doser, micro-doser, counter, vibrating bowls, feeding system specific on request, depending on the nature of the products. Inkjet, thermal transfer or laser marker. Labeling machine, anti-theft insertion in the bags (radiofrequency label).
Wear parts :
Springs of grippers, knives, cams, pinions, bearings. We recommend an annual review every 12 months for three-shift operation.
Advantages :
Compact even in case of multiple stations for different dosages, robust, the bag is always on the same station during the whole filling process, rotating operation of the carousel: Long life of wearing parts.
*Depending on the nature of the product, the format of the sachets and the type of dosage selected.
Advantages of our FFS vertical pouch machines
Device for sensitive films (opp and bopp) Continuous or intermittent mode
Can pass various products and bag types Ease of use
Reduced pouch manufacturing costs From 1 to 20 tracks depending on the application
Designed for large production volumes Compact